SciLab CAPE-OPEN Unit Operation
The SciLab CAPE-OPEN Unit Operation is a unit operation implementation for which the calculations can be entered in SciLab.
To get started with the SciLab CAPE-OPEN unit operation, start your CAPE-OPEN capable simulation environment. Insert a SciLab CAPE-OPEN unit operation. Edit a unit operation. Define feed and product ports. Go back to the simulation environment and connect streams to the ports.
Now edit the unit operation again. On the SciLab tab you can enter the SciLab calculation script. This script can obtain feed properties using the getFeedProp function. It can then do calculations, using thermo-dynamic calculations that are based on the underlying thermodynamic system of the simulation environment the unit operation is running in. It must specify all the product streams using setProduct, that takes composition and flow as well as two other properties required to specify the thermodynamic phase equilibrium.
A very simple example script would look like:

f1=getFeedProp(1,"flow")
f2=getFeedProp(2,"flow")
h1=getFeedProp(1,"enthalpy")
h2=getFeedProp(2,"enthalpy")
p1=getFeedProp(1,"pressure")
p2=getFeedProp(2,"pressure")
p=min(p1,p2)
f=f1+f2
h=(h1*f1+h2*f2)/f
totF=sum(f)
setProduct(1,totF,f/totF,"pressure",p,"enthalpy",h)

Requirements
The SciLab unit operation will function in CAPE-OPEN compliant simulation environments that support version 1.1 thermodynamics. It has been tested in the COCO simulator and ProSimPlus 3.
The 32-bit version of SciLab 5.02 (or higher) or the 64-bit version of SciLab 5.4 (or higher) must be installed and running at your system. You can obtain a copy of SciLab from http://www.SciLab.org/.

CAPE-OPEN/COCO
Compliant
More information
van Baten, J.M., Taylor, R. and Kooijman, H., Using ChemSep, COCO and other modeling tools for versatility in custom process modeling. Extended abstract of presentation, AIChE annual meeting, Saltlake city, November 2010
van Baten, J.M., Rapid prototyping of unit operation models using generic tools and CAPE-OPEN, extended abstract, 6th US CAPE-OPEN conference, AIChE annual meeting, Nashville, November 2009.
Tolksdorf, G., Esche, E., Wozny, G., Repke, J.-U., Customized code generation based on user specifications for simulation and optimization, Computers and Chemical Engineering 121 (2019) 670-684
Availability
The SciLab CAPE-OPEN Unit Operation installer is available from the Downloads Page.
The SciLab CAPE-OPEN Unit Operation is free of charge for personal and academic use.
For commercial use, a license fee must be paid. Licensing is on a per-person basis (and can be used on multiple computers). Commercial license fee is € 150,- (if you are outside the European union or inside Spain, VAT of 21% is applicable).
For other forms of licenses, please contact info@amsterchem.com.
Please see the Downloads page for downloading the SciLab CAPE-OPEN Unit Operation.
Example
This membrane separator SciLab CAPE-OPEN unit operation was provided by Torbjørn Pettersen - Thermos AS - Norway: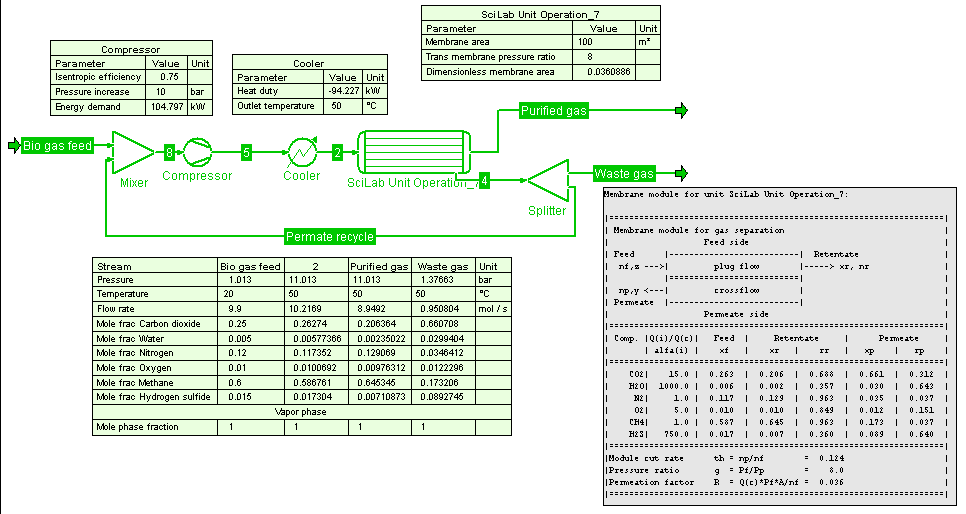 The example is set up in COFE and is available for download:

BioGasSeparationScilab.fsd
Change log
Version 1.0.4
storing last window rectangle for the unit operation edit dialog between editing (not stored between sessions)
disable vertical scrolling to fix apparent hangup in SciLab 5.1
Version 1.0.5
fixed hitting ESC on SciLab script dialog
fixed placement of buttons on parameter tab
Version 1.0.6
fixed broken links in help file
external calls replaced by interface routines for performance of thermo calls
Version 1.0.7
ensuring proper locale when storing / loading files
fix for error getting product ports by name
Version 1.0.8
adapted DLL to load properly into SciLab 5.2 to fix version incompatibilities
adapted start-up script to load new DLL in 5.2 and previous DLL in 5.1 and earlier
Version 1.0.9
Fix to incorrect 1.0.8 distribution files
Version 1.0.10.0
corrected error message on type check long array contained in Variant
adjustments for 5.3 family
Version 1.0.10.0
changed CapeVersion from 1.1 to 1.0 (refers to unit, not thermo standard version)
Version 1.0.11.0
updated runtime libraries
support for x64 SciLab (version 5.4 or higher)
support for running in x64 simulation environments
current-user installation option (allows for installation for users without administrative rights)
Version 1.0.13.0
added logMessage function
Version 1.0.14.0
adjustments for 5.4 family (beta; alpha will not run any more with these tools due to binary compatibility changes)
Version 1.0.15.0
fixed problems with uninstallation of current user install
next installation will default to single user in case only single user version is already installed
upgraded compiler
Version 1.0.16.0
avoid use of deprecated sscanf
Version 1.0.17.0
added Consumes_Thermo_CATID, SupportsThermodynamics10_CATID and SupportsThermodynamics11_CATID
Version 1.0.18.0
Edit returns S_FALSE in case the unit remains unchanged, allowing the simulation environment not to invalidate the solution
Version 1.0.19.0
Fixed problem with button locations on parameter tab when sizing dialog
Version 1.0.20.0
Restored support for winXP
Version 1.0.21.0
Fixed problem with file lock due to error handling
Version 1.0.22.0
Fixed problem with crash on file comparison
Version 1.0.23.0
Version 1.0.24.0
Version 1.0.25.0
Correction to file comparison (file changed detection)
Version 2.0.0.0
Compiler upgrade
Help spell checked
Code spell checked
Code signed
30 day registration-free operation allowed; after that free or commercial registration is required
Inter procedural optimization
Version 2.0.0.1
Thread safety fix for locale usage
Compression library updated
Version 2.0.0.2
Compiler upgrade
Fix to string parameters
Version 2.0.0.3
Fixed problem with registration message in non-registered versions
Version 2.0.0.4
Compiler upgrade
Support for Scilab 6.0 beta
Version 2.0.0.5
Resolved issues with lingering report list at load model
Work-around for output file access issues when running concurrent instances of unit operations
Version 2.0.0.6
Fixed problems with empty arrays
Version 2.0.0.7
Allowing for more than 32k characters in script text boxes
Version 2.0.0.8
Fixed detection of x86 Scilab from x64 unit operation and vice versa
Version 2.0.0.9
Compiler upgrade
Check for sum(X)=1 to avoid composition unit of measure confusion (6.0 only)
Version 2.0.0.10
Compiled for release 6.0 (breaks compatibility with 6.0.0.0-beta)
Version 2.0.0.11
Compiler upgrade
Improved error handling for Scilab 6.0
Version 2.0.0.12
Compiler upgrade
Replaced -nwni command line option for -nogui (as the former is no longer supported by Scilab 6.0.0.1)
Version 2.0.0.15
Compiler upgrade
Dropped support for Windows XP