Excel CAPE-OPEN Unit Operation
The Excel CAPE-OPEN Unit Operation is a unit operation implementation for which the calculations can be entered in MicrosoftTM Excel. It will allow you to create an Excel workbook that defines the equations for calculating a unit operation, and use it in a CAPE-OPEN compliant simulation environment that supports CAPE-OPEN version 1.0 or 1.1 thermodynamics.
The principle is simple; the workbook contains multiple work-sheets that have specific functionality. There is the feeds worksheet, that will allow you to add and feeds simply by adding names of feeds to a table. During calculation, the feeds worksheet will contain pressure, temperature, enthalpy, composition and flow for each feed:
These numbers are automatically taken from each feed stream and placed in the feeds worksheet, ready to be used in your calculations.
Like the feeds worksheet, there is a products worksheet. Here you can add product streams by adding rows to a table. This worksheet has cells for pressure, temperature, enthalpy, composition and flow as well. The values for composition and flow rate must be provided, as well as of two out of three of pressure, temperature and enthalpy.
Like the feeds and products worksheets, there are worksheets for in- and output parameters.
The Unit Operation ribbon will help you along the way for inserting ports and parameters, and setting up thermodynamic and physical property calcultions: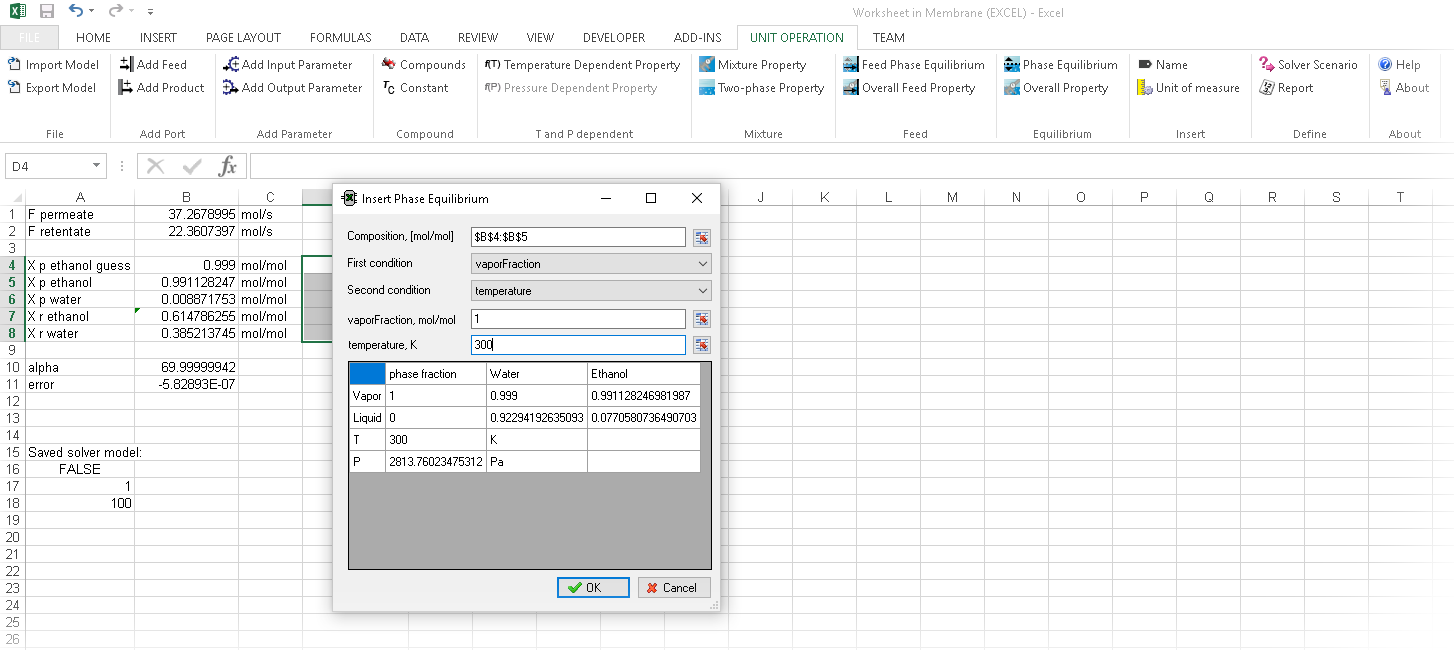 The Heat Exchanger Example demonstrates the use of the Excel CAPE-OPEN Unit Operation in more detail.
Complex, non-linear models can be solved using the Excel solver Add-in. The Excel CAPE-OPEN Unit Operation allows to define multiple solver scenarios that will be solved sequentially during calculation. You can even specify which initial guess to use for your solver models.
Requirements
The Excel unit operation will function in CAPE-OPEN compliant simulation environments. It has been tested in the COCO simulator, SimSci ProII, AspenPlus, ProSimPlus 3 and other simulators.
You will require a working installation of Microsoft Excel on your system. The Excel Unit Operation has been tested to work with Excel versions 2010 and higher.
.NET framework 4.6.1 is required for the Unit Operation ribbon to work.

CAPE-OPEN/COCO
Compliant
More information
van Baten, J.M., Taylor, R. and Kooijman, H., Using Chemsep, COCO and other modeling tools for versatility in custom process modeling. Extended abstract of presentation, AIChE annual meeting, Saltlake city, November 2010
van Baten, J.M., Rapid prototyping of unit operation models using generic tools and CAPE-OPEN, extended abstract, 6th US CAPE-OPEN conference, AIChE annual meeting, Nashville, November 2009.
Availability
The Excel CAPE-OPEN Unit Operation installer is available from the Downloads Page.
The Excel CAPE-OPEN Unit Operation is free of charge for personal and academic use.
For commercial use, a license fee must be paid. Licensing is on a per-person basis (and can be used on multiple computers). Commercial license fee is € 400,- (if you are outside the European union or inside Spain, VAT of 21% is applicable).
For other forms of licenses, please contact info@amsterchem.com.
Please see the Downloads page for downloading the Excel CAPE-OPEN Unit Operation.
Change log
Version 2.0.0.0
Excel 2010 or higher is now required
Windows XP no longer supported
saving as xlsx, no longer as xls (xls is not supported anymore)
moved all user defined functions to Automation Add-in (resolved many issues with unresolved references and macro security)
ribbon for inserting thermodynamic and other functions, for defining solver scenarios and reports, and for inserting ports and parameters
new function for obtaining unit of measure for any property (old unit of measure functions are retained for backward compatibility, but no longer documented)
reports now use Excel formatted text
improved import/export model workflow
fixed problems with capeFlashedFeed
fixed problems with capeOverallProperty
many stability enhancements
various performance enhancements
new installations are for the current user only (administrative install no longer supported)
Version 2.0.0.1
Fix to installer to detect previously installed versions
Version 2.0.0.2
Removed additional argument separator at the end of capeSinglePhaseProperty as generated by ribbon dialog
Version 2.0.0.3
Fixed CUP (COCO-update) registration
Version 2.0.0.4
fixed error handling
fixed issues with empty lists
recover from Excel crash or unexpected shutdown during Edit
fixed internationalization issues
fixed several unreleased COM objects prior to GC
Version 2.0.0.5
fixed installer issues that caused failure to detect x64 office
Version 2.0.0.6
fixed installer issues that caused failure to detect x64 office