Excel CAPE-OPEN Thermo Import
Excel CAPE-OPEN Thermo Import is an Excel extension that allows for using CAPE-OPEN version 1.1 compliant thermodynamic servers directly in Excel. Excel CAPE-OPEN Thermo Import supports accessing compounds, constant compound properties, temperature dependent compound properties, phases, mixture properties, two phase properties and phase equilibria.
To get started, insert a property package from the CAPE-OPEN ribbon: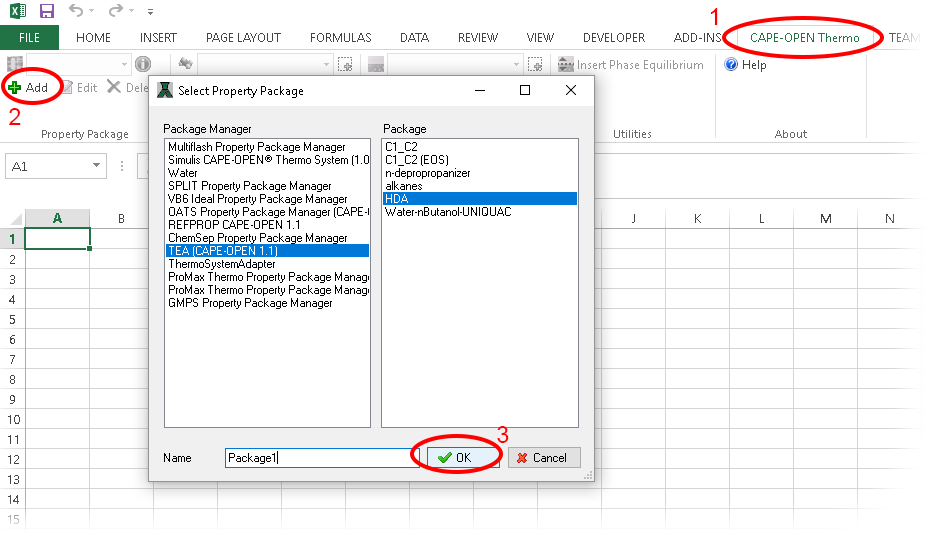 For each of the available calculations, the Ribbon provides a wizard to create the formula. As an example, the flash calculation wizard allows to enter all specifications. The dialog itself shows a preview of the result: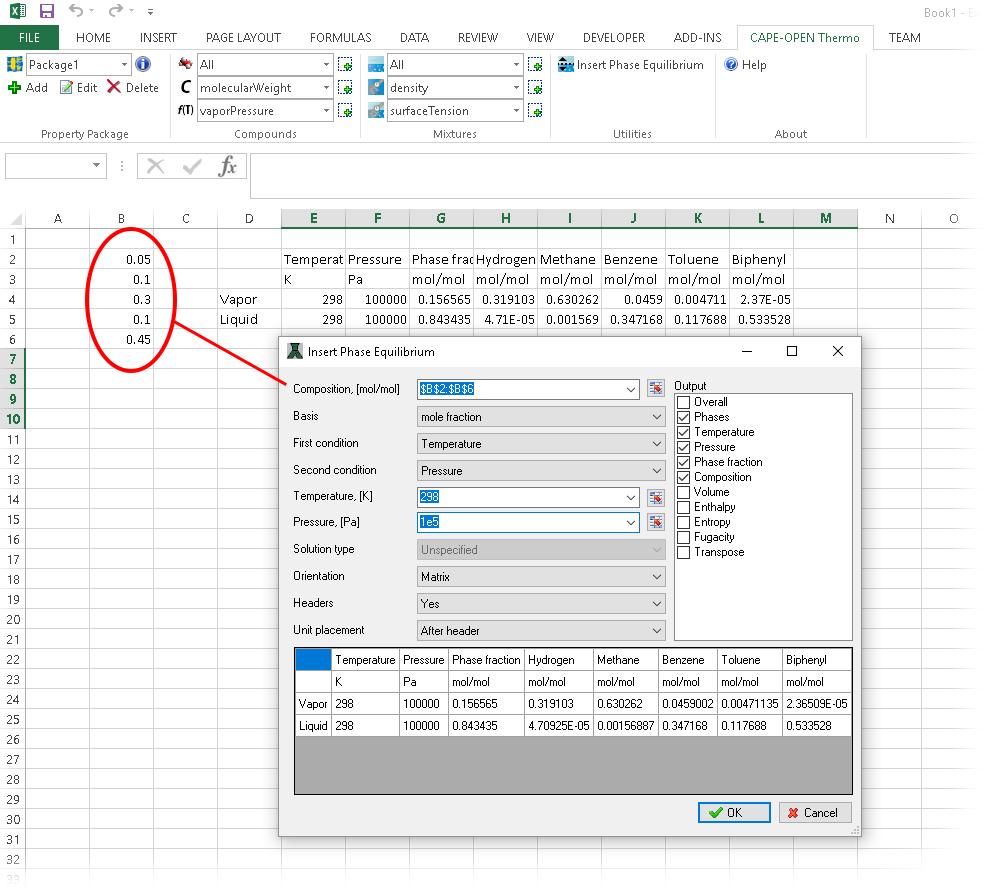 The formula argument can reference cells in the spread sheet as calculation inputs, or can directly be numberic value, or a formula itself. Once inserted, the Excel Formula Wizard will allow editing the arguments if necessary: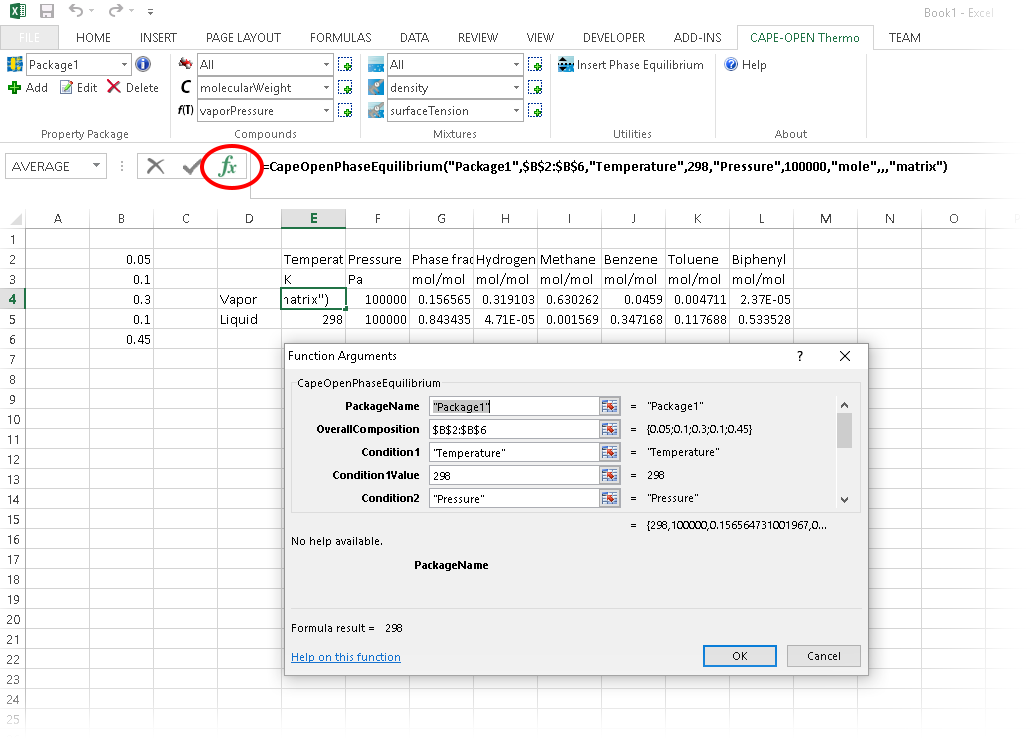 Requirements
Excel CAPE-OPEN Thermo does not provide the thermodynamic servers. It supports any third party CAPE-OPEN 1.1 compliant thermodynamic server, including the ones that come with COCO Simulator and a variety of commercially available thermodynamic servers. Excel 2010 or higher must be installed on your system. The x86 version of Excel will work with x86 thermodynamic severs, whereas the win64 version of Excel will work with win64 thermodynamic servers.

CAPE-OPEN/COCO
Compliant
More information
Availability
The Excel CAPE-OPEN Thermo Import installer is available from the Downloads Page.
Excel CAPE-OPEN Thermo Import is free of charge for personal and academic use.
For commercial use, a license fee must be paid. Licensing is on a per-person basis (and can be used on multiple computers). Commercial license fee is € 400,- (if you are outside the European union or inside Spain, VAT of 21% is applicable).
For other forms of licenses, please contact info@amsterchem.com.
Please see the Downloads page for downloading the Excel CAPE-OPEN Thermo Import.
Change log
Version 1.0.0.1
added ribbon items to help
fixed flash problem with matrix layout and no phase display
message upon no active workbook while trying to add package
Version 1.0.0.2
fixed problems with property packages exposing empty property lists (e.g. no temperature dependent properties or two-phase properties)
Version 1.0.0.3
fixed problems with property packages that do not function
Version 1.0.0.4
fixed crash on saving workbooks that do not contain any CAPE-OPEN thermo
Version 1.0.0.5
explicitly releasing all COM references from VSTO to prevent third party STA applications from blocking
Version 1.0.0.6
fixed issue with updating compound count after editing a package
Version 1.0.0.7
fixed issue with releasing Excel owned COM objects
fixed issue with uninitialized VARIANT
Version 1.0.0.8
fixed problem with internationalization and list separator for formula arguments
Version 1.0.0.9
fixed multiple problems with internationalization
releasing additional Excel COM references
Version 1.0.0.10
fixed issue with composition as number in single-compound system
tab name all capitals
fixed tab order in insert flash dialog
fixed update insert flash dialog after selecting second flash condition
Version 1.0.0.11
fixed issues with double click on xls file in Excel 2016
tab name case change for Excel >=16
Version 1.0.0.12
fixed more issues with double click on xls file in Excel 2016
Version 1.0.0.13
fixed instabilities on Excel startup via automation
Version 1.0.0.14
fixes pertaining to transposed matrix output of phase equilibrium
Version 1.0.0.15
corrected list separator in case "Use system separators" is selected
Version 1.0.0.16
corrected various internationalization issues
released several unreleased COM objects prior to GC
Version 1.0.0.17
various matrix property header corrections
Version 1.0.0.18
fixed installer issues that caused failure to detect x64 office
Version 1.0.0.19
fixed issue with depersistence of saved property packages
Version 1.0.0.20
fixed persistence issue arising from limited string length support in Excel
Version 1.0.0.21
fixed installation problems for x64 office versions
Version 1.0.0.22
fixed depersistence issue arising from larger package data